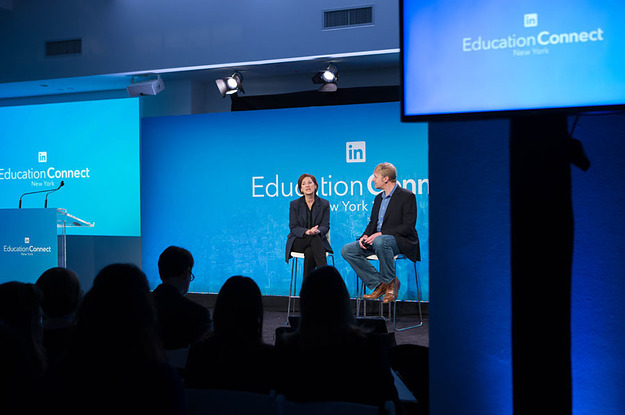 You might be asking - but why LinkedIn? Isn't that the place you go to stalk former bosses and see if that crazy coworker ever got fired?
With over 500 million users worldwide, LinkedIn is indisputably the largest business networking platforms. In fact, feeling that pressure - Facebook made their own job board to compete in Feb of this year.
LinkedIn has now turned its focus to building it's community of influencers and content creators.
So here are our 5 reasons we're excited about this LinkedIn event over other similar events:
1) Community-focus: It's called #LinkedInLocalSF and promises to be one of the largest LinkedIn community-based events is happening at LinkedIn in San Francisco on Dec 18th, planned out and hosted by the community itself. It's promoting networking and connections with other active members in that community. LinkedIn is also unveiling something new at this event - and we're all curious what that will be.
2) Real personal branding career advice: This event will be highlighting "Building Personal Brands and Community" on LinkedIn from a set of leading content creators who regularly get hundreds of thousands of views and pull in major clients from all over the world.
3) The organizer is the "Green-haired Oprah of LinkedIn Videos": The community calls her the Oprah or Queen of LinkedIn videos. Her name is Goldie Chan and she's a social media expert who is currently the Head of Content and Creative at confirm/deny - a boutique social media strategy and content agency based out of LA. She's also one of the youngest, female of color Producer in the prestigious Producer's Guild of America. With over 100 consecutive videos, she also has the title of longest running daily video series on LinkedIn with a focus on storytelling.
4) All proceeds will go to a LOCAL non-profit: All proceeds go to 826 Valencia, a local youth non-profit and it doesn't feel like an upsell event or attempt at a "masterclass," either.
5) The speakers at the event pull in hundreds of thousands of views each day:
Each of the speakers has grown to be influential on the platform for various reasons - Justin Wu focuses on blockchain technology, Fahad Mohammed has an incredibly popular video series on marketing, finance and building brands, Nupur Singh transitioned from finance to viral marketing and Jon Youshaei regular writes a weekly cartoon "Every Vowel" with an audience of 400k+ readers. Longer bios below.
We've already bought our ticket, so if you're still on the fence if you should buy yours - this event will let you:
1. Meet with the actual LinkedIn team to show a brand new feature they've been working on that NO ONE else will see except if you attend. There'll also be Instagram-worthy photo opps.
2. Great company, awesome food and an cozy night of community building.
3. You may find a new business partner, friends or even date (Bumble for Business anyone?). And if your ex-boyfriend or girlfriend comes - don't worry, they'll at least be there to give you more views on your LinkedIn content.
Attendees will be flying in from Canada, Los Angeles, and many other states so this is one event you don't want to miss before the year ends!
So go buy your ticket today (they're limited to 50 and we're pretty sure they're almost all gone).
#LinkedInSF Speaker Bios:
Justin Wu - Featured on Wall Street Journal and multiple publications he is known for his growth hacking strategies and producing incredible results in marketing ICO's- having done $33 million in token sales, he has exploded his brand on multiple platforms and has landed large amounts of speaking gigs due to his use of the omnipresence model.
Fahad Mohammed - With an understanding of PR, Marketing and Virality, Fahad has been featured on multiple publications including The Huffington Post. He also has surpassed 100 Daily videos on LinkedIn speaking on topics that range from: marketing, building brands, entrepreneurship, finance, to futuristic technology like AI and Blockchain.
Nupur Singh - From working at Goldman Sachs to now running her own marketing agency- Nupur has an excellent understanding of marketing and storytelling on a platform like LinkedIn. Having posts go viral on LinkedIn- Nupur has an understanding on the topics and storytelling on a platform like LinkedIn to command the attention of millions.
Jon Youshaei - Being a writer for Forbes and Time Magazine, Inc Magazine said "If anyone has cracked the code on how to go viral, it's Jon Youshaei. This Wharton alumnus is a creative force who knows how to use marketing to inspire movements for millennials" His weekly cartoon "Every Vowel" commands the attention of 400,000+ readers.