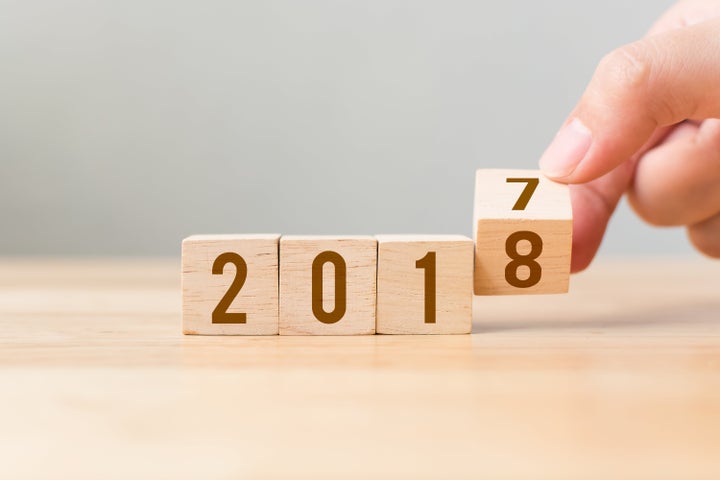 What kind of year was 2017?
Most of President Donald Trump's supporters, a new HuffPost/YouGov survey finds, think it was pretty great: Just over three-quarters say that it was a good or excellent year for the nation as a whole. Fewer than a tenth of the voters who backed Hillary Clinton last year, and just a quarter of everyone else, agree.
Politics wasn't mentioned anywhere in the questions. But it was clearly on Americans' minds, tying heavily into their overall view of the year (or at least the way they answered survey questions about it).
In comparison, gaps between other demographic groups including gender, race, income, age and education were far smaller. Even party lines are less predictive: The difference between Republicans and Democrats on the question is 46 points.
It's perhaps unsurprising that politics has a strong correlation with Americans' views of the nation. But there are also smaller, but substantial differences in perceptions of personal well-being this year.
Trump voters are 27 points likelier than Clinton voters to say that they personally had a good or excellent year. This once again easily outpaces the gaps between most other demographic groups. Income, however, comes close, with those in the highest-earning group 23 points likelier than those in the lowest-earning group to give their year a positive review.
Although Clinton voters are increasingly optimistic about the 2018 elections, that enthusiasm isn't enough to lift their spirits about the nation's prospects for next year.
Just 15 percent of Clinton voters expect 2018 to be better for the United States than 2017, while 62 percent of Trump voters think that it will be. (Non-voters and third party voters are also on the unenthusiastic side, with fewer than a quarter expecting next year to be an improvement.) More than half of Trump voters, but barely over a third of the rest of the nation, expect their own lives to improve next year.
Overall, 39 percent of Americans expect 2018 to be better ― nearly identical to the 40 percent in 2016 who expected this year to be an improvement over last.
The poll is far from the only one to find that politics eclipses basically anything else in limning Americans' views of the country. HuffPost/YouGov's 2016 survey ― which found broadly similar results overall ― also found a stark divide, as did a more recent mid-year check-in. It's also not the only poll to find that last year's election fundamentally changed both sides' assessments about their own lives. Trump voters, who said resoundingly in 2016 that things had gotten worse for "people like them" in the past 50 years, grew substantially more optimistic by the following spring, while Clinton voters' assessments plunged.
Use the widget below to further explore the results of the HuffPost/YouGov survey, using the menu at the top to select survey questions and the buttons at the bottom to filter the data by subgroups:
The HuffPost/YouGov poll consisted of 1,000 completed interviews conducted Dec. 12-14 among U.S. adults, using a sample selected from YouGov's opt-in online panel to match the demographics and other characteristics of the adult U.S. population.
HuffPost has teamed up with YouGov to conduct daily opinion polls. You can learn more about this project and take part in YouGov's nationally representative opinion polling. More details on the polls' methodology are available here.
Most surveys report a margin of error that represents some, but not all, potential survey errors. YouGov's reports include a model-based margin of error, which rests on a specific set of statistical assumptions about the selected sample rather than the standard methodology for random probability sampling. If these assumptions are wrong, the model-based margin of error may also be inaccurate. Click here for a more detailed explanation of the model-based margin of error.