You have scheduled your fishing charter and are ready to go. What do you need to take on the adventure? Most of the articles we recommend are for protection and comfort on your St.Petersburg, Clearwater, Tampa Bay or Costa Rica inshore or deep sea fishing charters.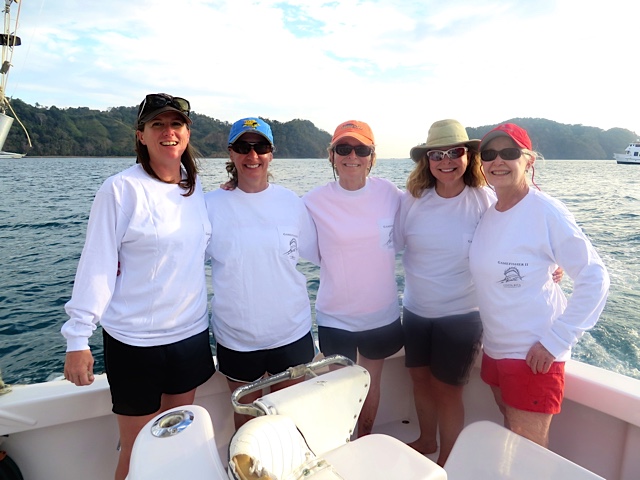 Dress for comfort on your fishing charter
Be prepared for changing weather conditions during various parts of the day. Layered clothing is a great choice, as mornings are colder and late afternoons are warmer. Always be prepared for the random rain shower that might stroll through. The time of year will also have an impact on your fishing attire. Your charter Captain will will inform you the most up to date weather conditions just prior to your trip. Be sure to ask!
Be smart on your fishing charter
Adequate protection from the sun is strongly recommended for a relaxing day on the water. Protective clothing and proper sun screening products will keep you safe. The sun's direct rays, and the sun's reflection off the water, can be very unforgiving for your skin, even when you are under shade. Be smart, no sunburns please.
Recommended Items to consider when packing for your inshore or deep-sea fishing charters:
Non-skid rubber sole shoes are a necessity
Dress in light colored clothing as to not retain heat on warm days
Lightweight micro-fiber long sleeve shirts to protect arms from the sun are optimum
Take your favorite hat (wide brimmed is the most protection)
Short pants when warm, long when cold
Waterproof windbreaker for possible rain and cooler mornings
Swimsuit, as you never know when you'll get the urge for a swim
Polarized sunglasses to protect your eyes, cut the glare and to see fish better
Sunscreen and lip balm that protect from UVA and UVB rays
Seasickness medication if you're prone to seasickness
Bug spray for inshore fishing by the mangroves
Hand sanitizer if you don't want to smell like bait
Waterproof bag or backpack for your personal belongings
Camera or smartphone to record your trophy catch
When adequately prepared for your fishing charter, you can relax and enjoy the day knowing that you have every angle covered. You can enjoy the day catching a variety of fish on your Tampa Bay, St. Petersburg, Costa Rica and Clearwater fishing charter including but not limited to, Tarpon, Snook, Trout, Redfish, Kingfish, Grouper, Snapper, Tuna, Swordfish and Mahi.
Selecting a fishing charter Captain
It's important to do your homework when it comes time to pick on which charter Captain you would like to spend the day with. Do some homework to help determine if a charter Captain would be beneifical for your needs. Be sure and read the reviews of any fishing charter you are considering. It's encouraged not to only go by the rating number, but see what people are talking about.
If you're on the market for a St. Petersburg, Clearwater, Costa Rica or Tampa Bay Fishing Charter, be sure and give the crew at YACHTFISH Fishing Charters a chance. Our experience with YACHTFISH and Captain Matt Douglas has been second to none. We strongly recommend giving them a try. We can guarantee you'll be happy you did.