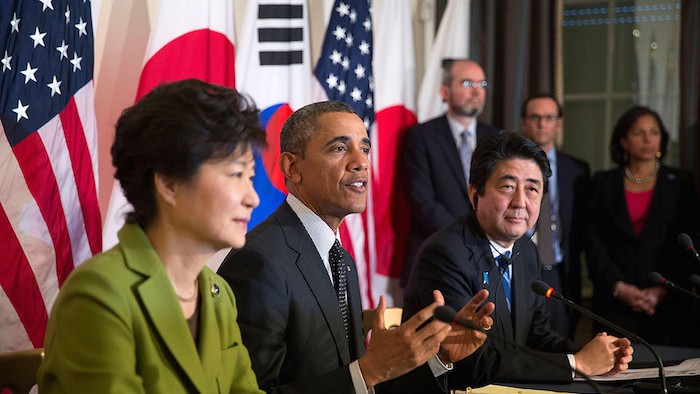 Japan and South Korea recently agreed to build future-oriented relations and work together to protect both nations from North Korean threats. This comes on the heels of the 2015 resolution related to the Japanese use of
South Korean comfort women
between 1910 and 1945 when the Korean Peninsula was under Japanese colonial rule. Japan has sought to make amends for having Korean comfort women in brothels meet the needs of Japanese soldiers. The two countries are working together to heal the rifts caused by that chapter in their histories. In South Korea the comfort women testimonies brings back painful memories.
Moon Jae-In, South Korean new president, met with Shinzo Abe, the Japanese prime minister, in Hamburg, Germany recently during the Group of 20 summit to discuss ways the two countries can work together to protect their citizens from North Korean aggression. While President Moon Jae-In knows most South Koreans aren't happy with the 2015 comfort women settlement agreement signed by his predecessor, both South Korea and Japan are looking for the best way to move forward together and address the dangerous threat North Korea poses.
The two governments see a dual-track approach as the best way to heal the wounds exposed by the comfort women stories while dealing with the North Korea menace.
Newly elected President Moon Jae-In, a former human rights lawyer, had pledged during his presidential campaign that he would renegotiate the Korean
comfort women
agreement.
A recent polls showed that's what 70% of South Koreans want. However, since taking office President Moon has said he wouldn't let this one issue derail bilateral relations between his country and Japan.
South Korea, Japan and the U.S. are closely coordinating their activities to counter the nuclear and missile threat posed by North Korea. South Korea also faces economic retaliation from China over the Terminal High Altitude Area Defense system the U.S. has deployed there. China's seeming unwillingness to hit North Korea with tough sanctions has prevented South Koreans from seeing the Chinese as being a reliable strategic partner.
In a meeting in Washington D.C. in late June, it was acknowledged the comfort women agreement's implementation is vital for South Korea and Japan to work together. Experts say President Moon is working to find a solution that satisfies both his nation's emotional and security needs by using the dual-track approach to resolving the issues related to the South Korean comfort women and protecting his people from North Korean aggression.
North Korea recently tested an ICBM experts say could reach Alaska. It's a major step forward for their missile program compared to 10 years ago. Earlier this year, experts estimated North Korea had enough fissile material to produce between 10 and 20 nuclear warheads and the technology to build a 'miniaturized' warhead which could strike South Korea, Japan and U.S. military bases in Guam if mounted on short- and medium-range missiles. This makes resolving the comfort women issue and dealing with the North Korean threat more urgent.
In an attempt to calm South Korean public sentiment about the comfort women agreement, the foreign ministry of South Korea is creating a task force to look at the process that led to the agreement in which Japan gave ¥1 billion to the surviving women and a sincere apology for their suffering to "finally and irreversibly" settle the issue and in exchange North Korea agreed to remove a statue facing the Japanese embassy in Seoul, South Korea symbolizing the comfort women.
Despite their differences, on June 3, South Korea and Japan agreed to keep the General Security of Military Information Agreement they signed last November.