Here is what I think is going to happen:
Someone from the Detroit Lions' front office will tip off a national writer late Sunday night that the organization has decided to make a coaching change. The report will go out, citing an unnamed source, that Jim Caldwell is about to be fired.
Less than 12 hours later, the Lions will send out a press release, making it official.
In all likelihood, that press release will be bland and to the point.
But this is what I hope it will say:
"I'm so sick of losing!" Lions owner Martha Ford will hopefully say in the release.
"Getting spanked in Baltimore is not acceptable. Losing to the Cincinnati Bengals – the freakin' Bengals – in a must-win game, is not acceptable. We have gone 60 years around here without a title! And somebody has to be held accountable. At the end of this season, I did not like what I saw. We were trending in the wrong direction. Being mediocre is not acceptable. I'm tired of excuses and I will not stand for this. Our loyal fans deserve more than this. And before you even ask, no, I'm not about to sell. Are you nuts? Why in the world would I sell? This franchise is a gold mine. So get that out of your heads."
Certainly, the release will praise Caldwell for his service.
"As I think back to this season, I had such high hopes," Ford will hopefully say, in the release. "But this season was nothing but a blown opportunity. Yes, there were injuries. Yes, the offensive line was in shambles. But excuses are for losers and that's all we have done around here. That has to change.
"It saddens me to get rid of Jim Caldwell, a man I truly like, respect and admire. He has done some good things, but nothing great. Still, make no mistake, the blame does not end with Jim Caldwell. Bob Quinn deserves some criticism as well. Our running game was atrocious. We made too many mistakes across the board. The blame starts with Quinn and it spreads from Caldwell to the players. They have to be better.
More on Caldwell:
Jim Caldwell's 'extension' shows Bob Quinn doesn't believe in coach
Hayes: Lions coach Jim Caldwell's hot seat tied to racism
"Now, let me be clear, I deserve blame as well. I'm the owner of this team. I am the one who sets the tone for this entire franchise, and I have to do a better job. This franchise has been stuck in mediocrity for decades. So right now, I am making my expectations crystal clear. There is only one goal: A Super Bowl championship. And if we can't get there, I'll keep whackin' people until we do. Losing is not acceptable. I have charged Bob Quinn to find a great coach and we will hire a great coach and a great group of assistants. I don't care how much money it costs. We have to end this cycle of losing."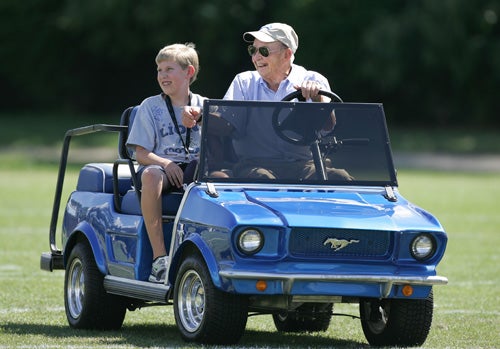 OK. So that's a pipe dream.
That's what I hope she will say.
Will she? Of course not.
And that's one of the reasons why this franchise has been so bad for so long.
'Running' out of excuses
If Caldwell is fired, as I expect, I would hope that Quinn would hold a news conference early next week.
"I have enjoyed working with Jim," I hope Quinn will say. "But the truth is, I have a hard time getting over the disaster in Baltimore. Putting nine players on the field? That was totally unacceptable. But we still had a shot to get into the playoffs. It was right there. But if Baltimore was disappointing, than Cincinnati was disgusting. We were playing for the playoffs, and that's the effort we got? Now, I've been compiling a list of coaching candidates since the day I was hired. Obviously, I have the most familiarity with New England Patriots coordinators Josh McDaniels and Matt Patricia. Later today, I will be flying to an undisclosed location to interview both of them. They are at the top of my list. But there are other coaches that I will look at as well.
More on Quinn: GM faces biggest task: Lifting the Lions out of mediocrity
"I want to stress something as well. I should be held accountable. Clearly, I was wrong about our running game. I thought that by revamping our offensive line, we would see improvement. I'm not one to make excuses, but injuries decimated that plan. So I am going to spend this offseason looking at every running back in the draft and in free agency, and I'm going to invest heavily in a new running back. I won't make the same mistake again. Bringing in a new running back won't solve everything, but it will sure help this team. Same goes for the defensive line. I made a huge mistake by not addressing that last season. We have to improve our running game and we have to get better on the defensive line