In this space I've said for weeks that it seemed New England Patriots quarterback Tom Brady probably had the award locked up. That was not based on what I thought should happen, but what I thought would happen.
As stated often here, since 1993, the only non-quarterbacks to win MVP were running backs who: A) rushed for 2,000 yards, or B) set a single-season touchdown record. There has not been one non-quarterback in 24 years to win MVP without that criteria. But it suddenly seems Los Angeles Rams running back Todd Gurley has a chance.
CBS writer Pete Prisco, an MVP voter, tweeted this after Week 16:
Prisco is one of the most respected voices in the industry, and if he's voting for Gurley, it might lead to others considering doing the same. There hasn't been much chatter on Twitter or elsewhere from known voters identifying their front-runner heading into Week 17, though The MMQB's Peter King said he'd be voting for Brady. For what it's worth, ESPN's poll of 12 of its experts still have it at 10-2 for Brady. But Gurley has legitimate steam after another big game in Week 16.
If Gurley wins, it would be a good thing. We spend a lot of time, especially this late in the year, talking about MVP. When J.J. Watt didn't win as he should have in 2014, I thought the door was closed on any non-quarterback who didn't hit a statistical milestone. I figured it became a quarterback award that year. Maybe not.
A win for Gurley might signal a shift and give other non-quarterbacks hope. Maybe Antonio Brown could have a chance next year. Perhaps Rob Gronkowski would get a look. Maybe even a defensive player could win for the first time since 1986. A vote for a running back isn't too groundbreaking. Since the AP award was first handed out in 1957, there have only been three non-quarterbacks or non-running backs to win (defensive tackle Alan Page, linebacker Lawrence Taylor and kicker Mark Moseley). Giving it to a running back doesn't exactly shatter the mold. But it's at least a little bit different. Nobody with Gurley's résumé has won since Dallas Cowboys running back Emmitt Smith in 1993 — even then, Smith was coming off a Super Bowl season for the most visible team in the NFL — and it would be something fresh for him to win. It would be good for the game.
One thing in Gurley's favor is he's finishing well, while Brady has slumped a bit. In Gurley's last five games he has 877 yards from scrimmage and eight touchdowns. In Brady's last four games he has just four touchdowns with five interceptions and a rating of 81.5. Gurley might not build on that, however. Rams coach Sean McVay said he thinks resting starters is more important than getting the No. 3 seed (the Rams can't get a top-two seed and a bye), so Gurley might not play. Brady has to play as usual, since the Patriots need to win to get the AFC's No. 1 seed.
Maybe the Gurley buzz is just the annual "let's talk about an alternate candidate, then the guy we all figured would win will take it in a landslide" that we are subjected to. That has happened before. But this time it seems like Gurley has a real shot. We shall see.
1. New England Patriots quarterback Tom Brady — I'll believe someone outside of the quarterback/2,000-yard rusher/TD-record-RB group wins when I see it. And let's be clear: Brady is a fine candidate. This is an award for the full season, not just December. Brady helped keep the Patriots afloat early when the defense was awful and the offensive line wasn't protecting well. He has a league-leading 4,387 yards, 30 touchdowns and eight interceptions. His 104.2 rating barely trails Alex Smith (104.7) for the league lead. His 8.1 yards per attempt is tied for the NFL lead along with Drew Brees, which is remarkable for a 40-year-old quarterback. The Patriots are likely to clinch the No. 1 seed on Sunday. Brady checks any box you'd have for an MVP.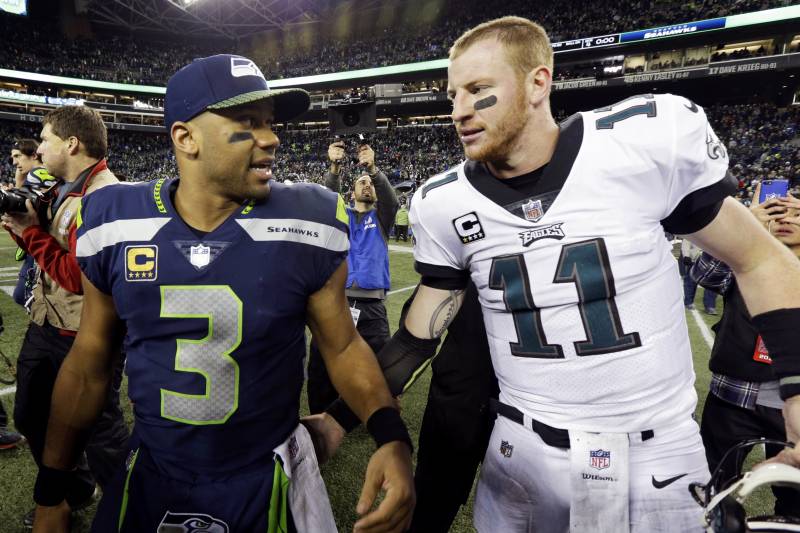 PLAYOFF_SCENARIOS
2. Los Angeles Rams running back Todd Gurley — If we look deeper at the MVP history, it can be fairly stated that it has been a long, long time since someone in Gurley's specific situation has won. 1993 was the last time for a running back who didn't rush for 2,000 or set a touchdown record. Emmitt Smith won that year, but he was coming off a Super Bowl so he had that momentum. The running back before him to win was Thurman Thomas in 1991, also coming off a great Super Bowl performance against the Giants. Before that? Marcus Allen in 1985, and he was a Super Bowl MVP two years before. When Earl Campbell won in 1979, he tied a single-season rushing touchdown record. Gurley wasn't some unknown or anything, but he was also coming off a poor 2016 season and won't set any single-season milestone that has won the award for a running back before. Make no mistake about it: If Gurley wins, you can argue we haven't had an MVP quite like him in 40 years.
3. Seattle Seahawks quarterback Russell Wilson — The MVP race officially became a two-man race last week. Yes, the Seahawks won, but Wilson threw for a career-low 93 yards and Seattle's offense was terrible (quarterback wins aren't a real stat, always remember that). Wilson has had a great season, but it's hard to see how he could rally enough momentum after the last two weeks to win the award.
4. Philadelphia Eagles quarterback Carson Wentz — I'm putting Wentz back on my top five out of respect for the season he had. He has missed two games and another full quarter since his knee injury and still leads the NFL in passing touchdowns. If you watched the Eagles offense struggle on Monday night, you understand how good Wentz was. If he stayed healthy I think he'd be the clear front-runner by now.
5. New Orleans Saints quarterback Drew Brees — I'm reluctantly putting Brees on the list. I think Brees has deserved MVP a few other seasons. This isn't the year, as the defense and running game have taken center stage. I'm sure Brees is fine with that, but his candidacy revolves around being a good quarterback on a winning team, and quarterback wins isn't a real stat. Brees is great, and criminally underrated on some all-time lists, but this isn't his best MVP argument. Still, because he's a quarterback, he has a better chance than anyone else you could round out the top five with.