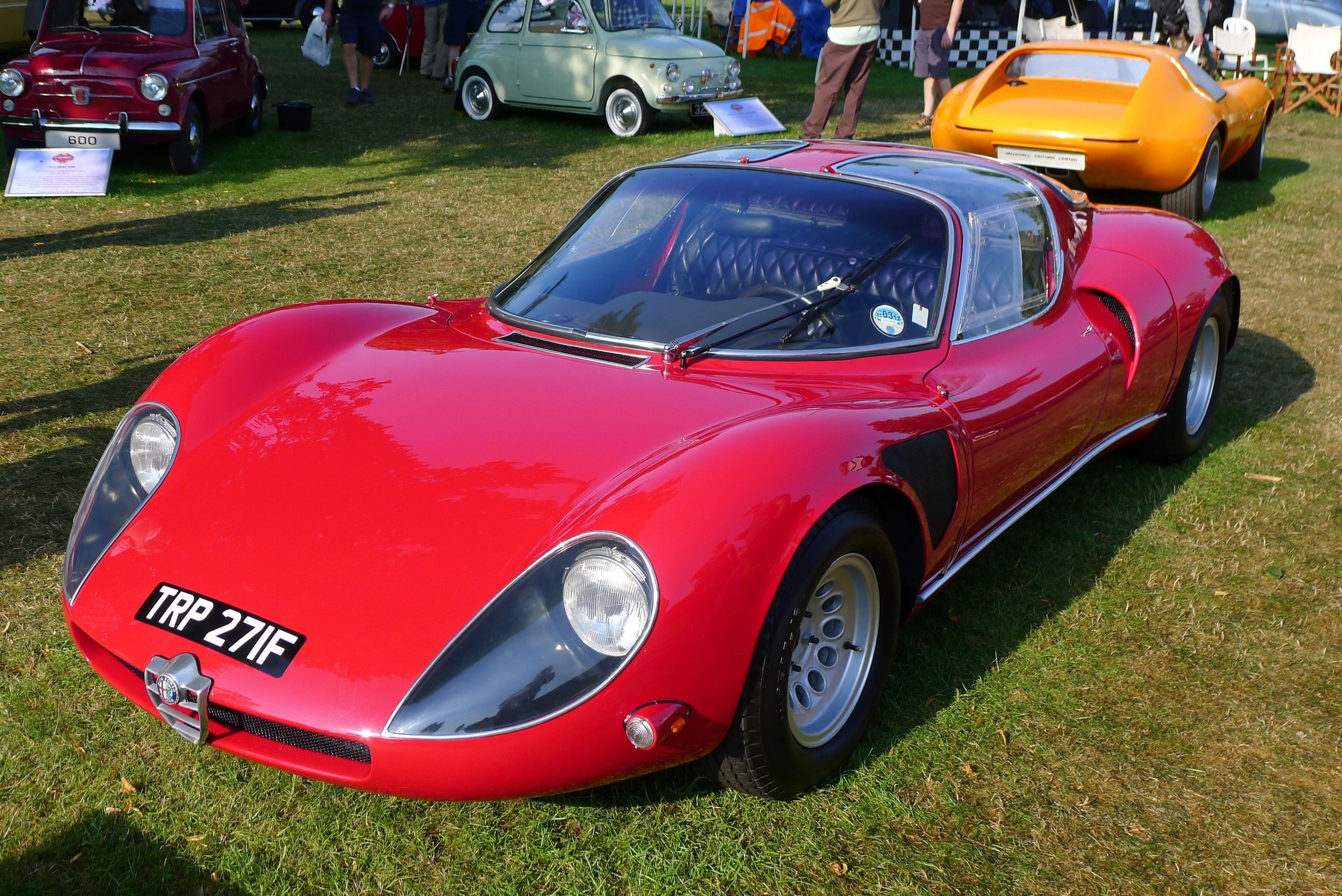 It's safe to say that every vehicle ever built by Alfa Romeo can be called beautiful. Picking favorites from among the marque's 105 years of iconic vehicles is a difficult task, but this is a good primer on some of the truly exceptional vehicles from the Milanese maestros.
1938 Alfa Romeo 8C 2900 Mille Miglia
One of the most gorgeous and beautiful racing Alfa Romeos of all time belongs to world-renowned fashion designer Ralph Lauren. Designed to compete in the 1938 Mille Miglia, it was one of the starring attractions at the incredible exhibition of Ralph Lauren's cars at the Musée des Arts Décoratifs in Paris.
1964 Alfa Romeo TZ Coupé
Of the 112 Zagato-bodied TZs ever built – one of the most exquisitely designed cars ever created – the one pictured here boasts a racing pedigree that includes Le Mans, the Tour de France and the Targa Florio. It was auctioned off for $800,000 a few years back and now belongs to a very lucky collector.
1968 Tipo 33 Stradale
Considered one of the most beautiful cars ever made, the Tipo 33 Stradale is a car collector's dream. Alfa Romeo produced just 18 of the 33 Stradale, the street-legal version of the racing type 33, making each a highly valuable icon. Featuring the very latest in light-weight technology, including aluminum and magnesium, the chassis weighed just 119 lbs (54 kg). Stunning vertically-opening doors add another distinctive element to this timeless design. The value of each 33 Stradale is almost impossible to determine, as the vehicle is hardly ever traded, but is estimated at close to $15 million.
1975 Alfa Romeo Tipo 33 TT 12
1975 was a year of almost total domination for Alfa Romeo on the world's racetracks, with seven wins in eight races landing it the World Championship for Makes title over the likes of Porsche, Ferrari and Maserati. One of its most successful cars that year was this stunning Tipo 33 TT 12 with Campari livery.
2015 Alfa Romeo 4C Coupe and 4C Spider
The newest Alfa Romeo sport car to join the family evoke the marque's impressive heritage and ushers in a new era of seductive style for the legendary Italian brand. It has won praise from critics and car experts around the world for its combination of stunning Italian design and race-inspired performance. The Alfa Romeo 4C Coupe and 4C Spider continues an Alfa Romeo tradition of performance-oriented lines and proportions. Inspired by the 1967 Tipo 33 Stradale, the 4C models are just as shapely, and offer the classic Alfa Romeo V-shaped "plunging neckline" front grille. While fresh to the market, the 4C is already one of the most desirable vehicles on the road, and is anticipated to be highly in demand as a collectible in the coming years. (We suggest getting your hands on one now while you still can.)